June 12, 2023Escapade
From lakes to vineyards to outdoor activities, Ontario has a great deal to offer travellers. However, despite this great diversity and scope, tourists often find themselves crowded together in the same places. That's why Marie-Ève, social media manager for Terego, wants to suggest you a road trip where you'll make stops at local farmers and producers who offer overnight RV spaces with Terego.
Get ready to discover Ontario in a whole new way as Marie-Ève recounts her experiences from her motorhome trip to Niagara !
Departure: BUSL Cider
Situated between Toronto and Montreal, BUSL Cider is the perfect place to start your trip! This family-owned and operated premium craft cider company produces various alcoholic ciders with the best of Ontario apples. They carefully created a whole range of ciders from apples, pumpkins, pears or raspberries to haskaps!
Not sure where to start? No problem, just ask for the tasting tray! You can enjoy it at their bar or on their magnificent terrace overlooking their orchard. Personally, I fell in love with the Rubus, their hibiscus and raspberry cider. I brought so many back for my friends and family, but now ... we have none left. I'll have to go back!
Terego members can spend the night in a large, quiet area directly beside the apple trees.
Direction: Udderly Ridiculous Farm Life
Your next stop is Udderly Ridiculous Farm Life located in the town of Bright. If you find the drive between BUSL Cider and our next stop too long, you have several Terego stop options to add to your route: Ocala Winery, Bergeron Estate Winery, Geissberger Farmhouse Cider, Doner Studio and many more. You can use the Itinerary option in the Terego App to find all the hosts between two destinations.
The Terego team has fallen in love with the Udderly Ridiculous Farm Life. But be careful: A stop at this farm will give you an irresistible urge to eat ice cream! Their dark chocolate and wine flavoured goat's milk ice cream was named best new dessert in Canada by the Retail Council of Canada. Terego members have the chance to visit the farm and enjoy a unique experience with the playful goats and curious alpacas. I had the chance to participate to the Alpaca Walk Experience with Cheryl, the owner. It was a truly unique activity where you learn all the secrets and funny habits of the alpacas.
After spending a completely magical night right next to the goat pen, I decided to take part in the baby Goat Yoga activity too. It was my least relaxing yoga experience, but definitely the most fun!
Next stop: Trembling Aspens Herb Farm

Trembling Aspens Herb Farm is a family farm in Caistor Centre. The owners, Edward and Susan, produce small batches of oils and vinegars infused with their herbs.
They also create their own self-care products, such as soaps, bath bombs, scrubs and more. Their variety of spice blends is impressive, to say the least. They are all made using only spices from Canada. Edward's travels have led him to examine spice blends from other parts of the world with meticulous curiosity, creating similar and equally delicious combinations with products from here. My partner's favourite is officially their jerk spice blend on roast chicken!
They also have a farm of alpacas with whom you can mingle. Book a visit to walk with Macintosh, Butterscotch, Sparky, or Caramel, their alpacas! Terego members can spend the night in their RV in a field near the friendly animals.
Last but Not Least : Commisso Estate Winery
Commisso Estate Winery is a magnificent Italian-inspired family vineyard in the heart of the Niagara region. From the moment you arrive, the impressive Commisso family home will transport you to Italy. The back terrace is bordered by a giant flowering garden on one side and a valley of vines on the other. The idyllic setting is perfect to take part in one of their guided wine tastings. Various red, white, rosé and pinot grigio wines are offered and explained in detail by a professional team.
You can also reserve in advance a delicious charcuterie platter to accompany your tasting. An indoor tennis and pickleball court is available on site to rent. Terego members will have the chance to spend the night right next to the vines, and can walk across their beautiful land to a pond.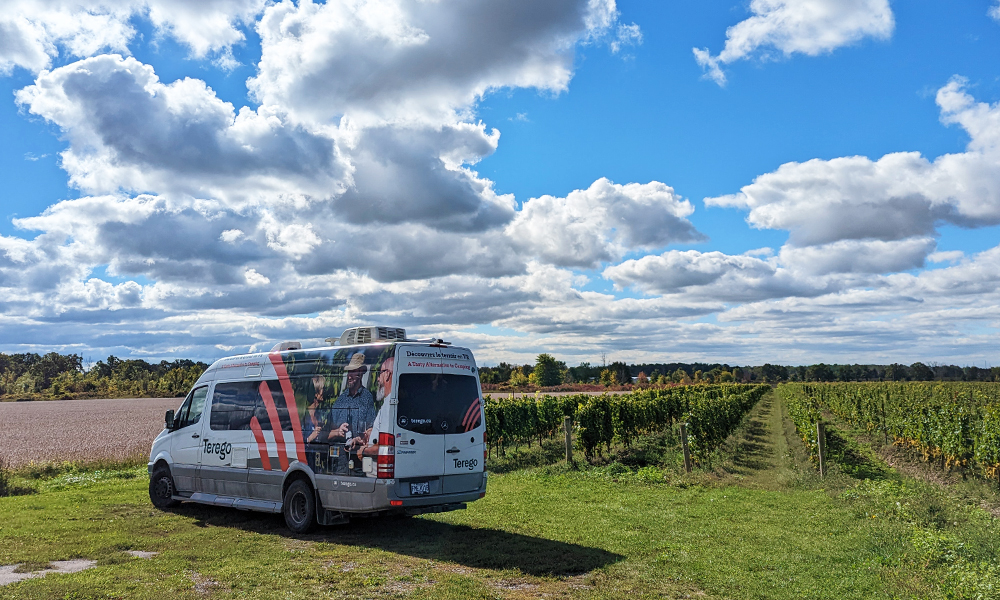 You will finish this journey with a head full of memories and the refrigerator of the RV overflowing with tasty local products.
Beyond the waterfalls and vineyards, the region offers plenty of things to do: casinos, historic sites, and miles of bike trails, including the popular Waterfront Trail, which stretches no less than 3,600 km along Lake Ontario, Lake Erie, Lake St. Clair, the Niagara River and the St. Lawrence River.
Become a Terego member to live all those exceptional experiences and have access to more than 1500 RV parking space throughout Canada.