March 28, 2023Escapade
RVing and vanlife have become much more popular in recent years. Whether glamping, boondocking or the Terego RV host network, there are many different ways to camp and enjoy the great outdoors. Whatever your camping interests may be, our goal should be to make as little impact on nature as possible. With that said, the Explorer RV Club Team shares 6 eco-friendly camping tips that are both good for the local landscape and the planet in general.
Explore Closer to Home
Consider choosing a park/campground close to home. You will not only save on fuels but spending less time on the roads means more time with family and friends relaxing at your campsite or your Terego host. You don't have to go far to get a change of scenery, and on top of that you participate in the local economy!
Be Waste Aware
Leave the paper plates and disposable plastic utensils at the store. Non-breakable dishes can be easily washed and stored after each use and cost less overall without causing as much harm to the environment. Always remember to use a biodegradable soap.
Prepare simple meals and plan ahead, keeping the ingredients and packaging to a minimum. When making your plan, keep in mind that things like root vegetables, eggs, rice, and pasta keep will keep for a few days without refrigeration. You can also prepare your meals ahead and freeze them. If your fridge is on the smaller side or if you don't have one, frozen meal containers will help keep your cooler cold while they slowly thaw.
If your campground doesn't provide potable water, bring your fresh water from home and pack reusable containers and one refillable water bottle for each camper. Let's help fight against plastic pollution by banning the use of single-use plastic water bottles.
Recycle
When visiting a campground, make sure to check what their recycling program consists of. Always remember to keep your recycling materials separate from your compostables. There are several container choices for composting that will fit the duration of your trip — whether a short weekend or a much longer adventure. A glass jar with a lid works well, or there are compost buckets ranging in size or you can purchase a portable composting unit. If you are on the road, check with the municipalities you are visiting. Many have voluntary drop-off sites for compost and recycling.
Please do not throw your garbage in the firepit as burning can create toxic fumes, and tossing it in the bush could attract unwanted wildlife.
Unplug
Leave the extra electronic gadgets at home. Okay, bring your cell phone but limit the use to when only absolutely necessary. Enjoy your time outdoors, reconnect with nature and your family or friends. Avoid using batteries and opt for solar chargers where possible. A solar lantern can also be used in place of a gas or battery lantern.
Campfires
There are restrictions on transporting firewood to prevent the spread of pests. Always check the fire restrictions in the area you are visiting.
Once your fire is burning briskly, though, no smoke should be polluting the air.
Always remember to check the fire regulations at the park and always fully extinguish your campfire well before going to bed. Not only are you preventing a forest fire, but it also stops the fire from smouldering and continuing to pollute the air.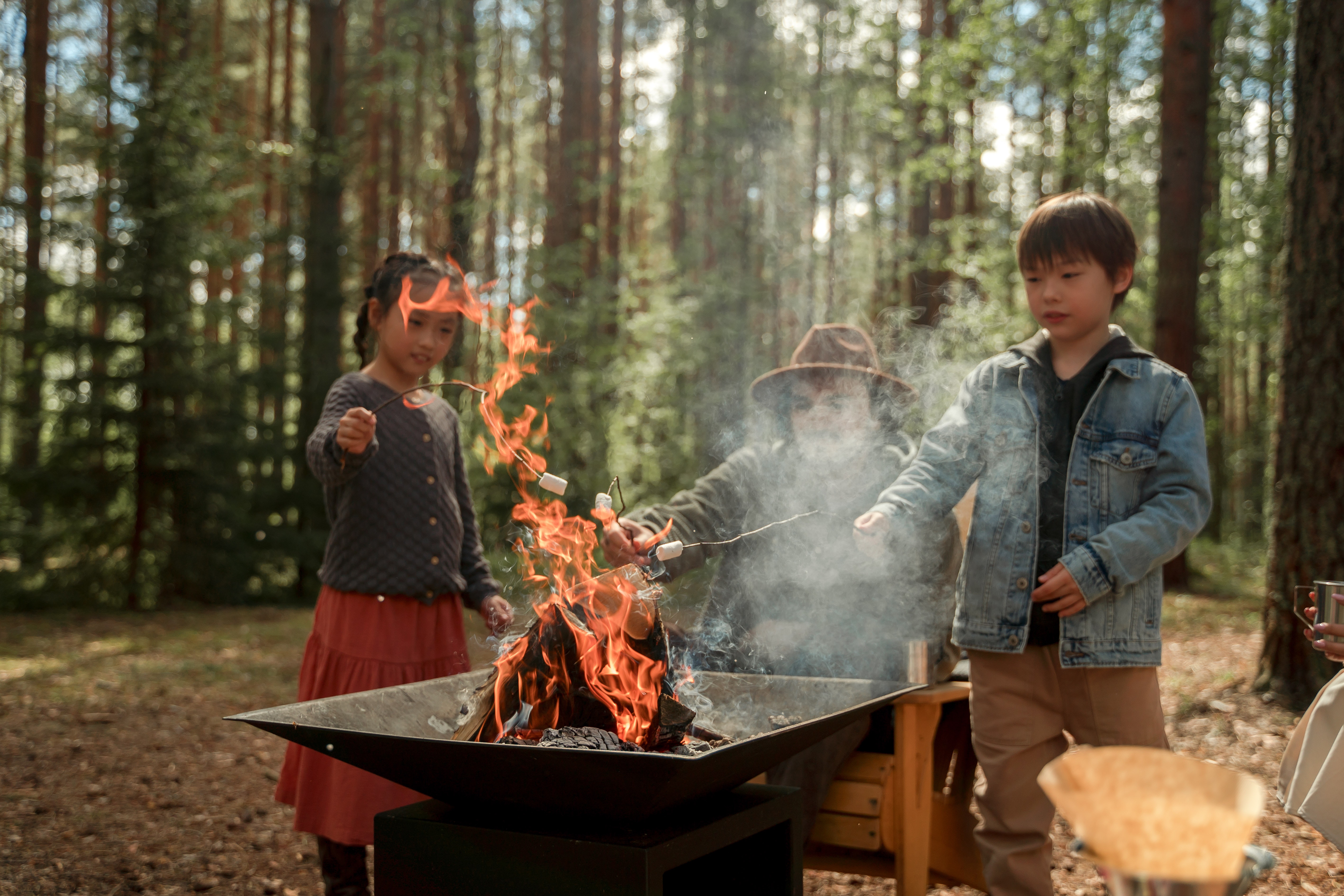 Mosquito Repellent
Get protection from mosquitos and other pests for your whole family by using a natural, chemical-free insect repellent. Look for ingredients like lemongrass, citronella or peppermint. There are sprays but also products like candles, lanterns, and bracelets. You can find many products and reviews online.
Leave no Trace
There are 7 principles of "Leave No Trace" that all outdoor enthusiasts and campers should know and follow to reduce the impact of their activities on nature:
Plan ahead and prepare
Travel and camp on durable surfaces
Dispose of waste properly
Leave what you find
Minimize campfire impacts
Respect wildlife
Be considerate of others
You can visit Leave No Trace Canada to learn more about those principles.
By planning ahead and being an environmentally conscious camper, you are helping the environment and leaving the campsite the way you found it so the next campers can enjoy their outdoor experience.
This blog was written by Explorer RV Club and Terego. Explorer RV Club is the largest national Canadian RV club serving ALL RVers. Terego members receive a 10% discount on their Explorer RV Club subscription.