February 17, 2023Escapade
Marie-Eve, her partner and her 2 children, aged 5 and 8, travel around in a Class C motorhome. In their search to see more of Quebec over the summer, they were interested by the idea of Terego. They told us about their experiences with several Terego hosts on our blog. Are you ready to set out? Destination: Charlevoix!
On a beautiful summer day, we set off towards Charlevoix. Upon arriving in Baie-St-Paul, a charming little town bordered by the St. Lawrence River and the mountains, the scenery is already amazing. Here, we turn off onto route 382 to follow the river up close.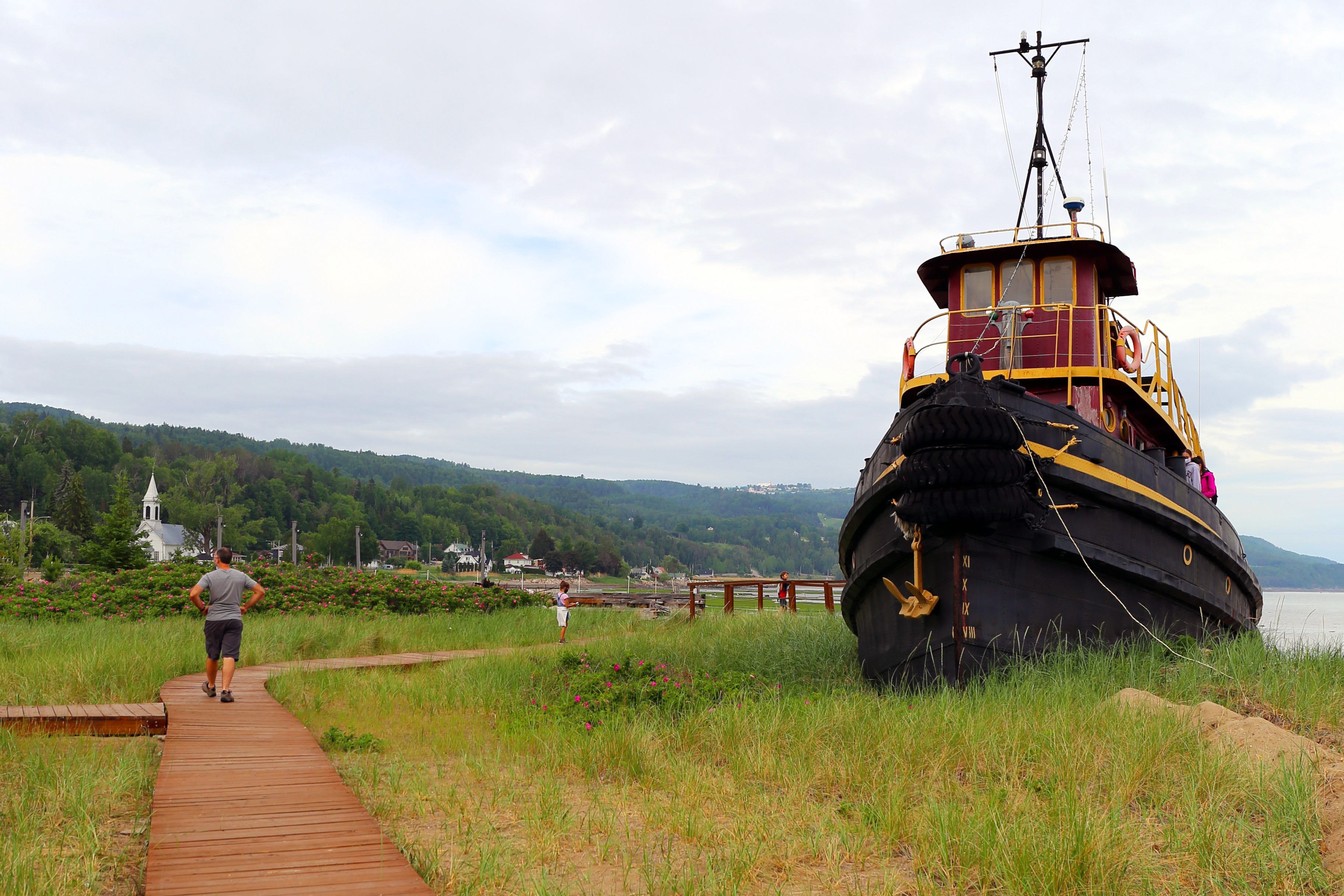 First stop: the Charlevoix Maritime Museum. There are many indoor exhibits, as well as several schooners that were once used to transport goods on St. Lawrence. We are thrilled to be able to visit them from the inside and discover the sailors' and captain's rooms. A short ten-minute video is displayed in one of the schooners allowing us to imagine the simple daily life of the sailors. We follow them on a journey from Montreal to Forestville where they carry up to 200 cords of wood on the way there, and a load of dynamite (!) on the way back!
In addition to transporting goods, some of the boats on display also had other uses: towing troubled boats, patrolling for fires on the Lower North Shore, etc. We then follow a lovely nature trail on the site that leads us to various life-size works of art as well as a small maze and a sheltered area. Kids love it!
After 2 hours spent in this charming place, we take the road for five minutes in direction of our first RV Terego stop: the Jardins du Centre. This small vegetable farm has a superb view of the river. The small store sells fruits and vegetables, but also local meats and alcohols as well as some handicraft products. We buy tomatoes and strawberries for our supper.
The RV parking that we were allowed to use for sleeping is on a small, quiet road next to a children's playground with swings. There are also laying hens and two pretty lambs.
After dinner, we take a small trail nearby that was suggested by our host. We go down to the river, first following a small stream and then crossing the railroad tracks.
Finally, here we are! The river is directly in front of us at low tide with the Kamouraska mountains in the distance. A wonderful show! After a few minutes of surveying the flats, we head back to our RV for a good night's sleep.
The next day, after a short breakfast, we drive about fifteen minutes in the direction of the beach of St-Irénée. The beach is still almost deserted at this hour, the tide is low and a long point of sand advances towards the river. We take our coffee there while walking slowly under the sun. A sweet moment of happiness.
We could have enjoyed more of the area: a trip to L'Isle-aux-Coudres, a visit to the Astroblème de Charlevoix, whale watching at the Pointe-Noire Observation and Interpretation Center, the possibilities are almost infinite in this beautiful region! But the Côte-Nord road is calling us! Charlevoix, we will see you again, you who have so much to show us between river and mountains!
To learn more about this "Adventure Family", please check out their Facebook, Instagram or their website (in French)!
Click here to subscribe now and book your Terego RV overnight parking now.