March 30, 2023Escapade
Sunsets, rocky cliffs and waterfront villages... the Maritimes is one of the best regions for a motorhome or travel trailer adventure! With hundreds of hosts in the Terego network, including several dozen in the Maritimes, it can sometimes be difficult to choose where to stop. Who better to offer you their recommendations than Terego members themselves?
Big Axe Brewery
New Brunswick
At Big Axe Brewery, Terego members can enjoy a craft beer in a rustic setting with a great view of the Saint John River!
"Very nice location near the river, quiet, relaxing after a good beer and a board of charcuterie served by an attentive employee! We enjoyed our stay very much, we recommend without hesitation." - Raynald Bouchard.
You can try one of their beers brewed on site, or try some of the local craft cider and mead. The saloon, a beautiful log building facing the river, also offers delicious meals. While the grown-ups are tasting beer, the little ones can have fun.
"A super nice place to stay, the beers are very good and our kids were well welcomed with colouring pages and games in the brewery. I recommend." -Delphine Charmet
Located in New Brunswick, Big Axe Brewery is a perfect RV camping stop on your vacation route!
"On our way to the Îles de la Madeleine, we had a pleasant stop in a beautiful setting on the banks of the St. John River. We tasted several beers before making our purchases. Nice terrace with a view from the top of the bar. Friendly staff." -Francine Durand
Dennis Point Café et Restaurant
Nova Scotia
This coastal restaurant offers a delicious seafood feast by the sea. All seafood on the menu, including lobster, is locally sourced.
"We stayed overnight and received a very nice welcome. The place is very well located in front of the wharf where a hundred boats are docked. Very quiet place at night and the restaurant is the best seafood restaurant we have eaten in. Taste, quantity and reasonable price, everything is impeccable. We visited the historic Acadian village a few miles away. The people are very friendly and speak French. A huge thank you for the very good service. One of our best vacation memories." -Charline Mallais Landry
Located in Nova Scotia, Dennis Point Café and Restaurant is proudly Acadian owned and operated.
"Our 10 hour drive was quickly forgotten! Warm welcome and service by Julia. Excellent food for a very reasonable price. The fishing boats across the street put us in the maritime atmosphere as we had hoped! A must-see destination. " -Dominique Thibault
Terego members can spend the night near the wharf and take the opportunity to stop by the Historic Acadian Village of Nova Scotia to learn more about the rich history of this community!
"One night stopover on the way to our vacation, we were a bit short of time to eat, so we took the meal to go and the owner came and delivered it to our RV. She even pointed out lots of must-see places around. We went to the little trail at the end of the point to watch the sunset in the Aeolian Park. Wow! I recommend!" -Eric Pontbriand
Riverdale Orchard
Prince Edward Island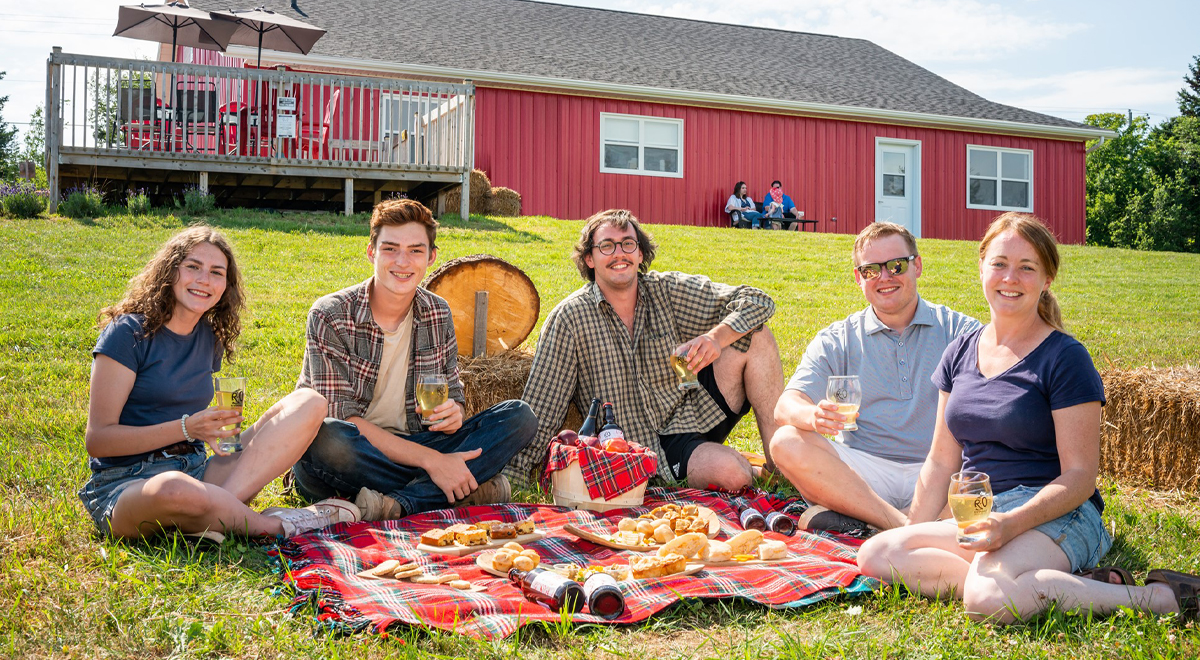 Learn how the owners of Riverdale Orchard make their unique artisanal ciders and explore their beautiful orchard.
"Nice discovery. Their apple ciders have an alcohol content equivalent to beer; amazing product. Vast land to walk around and admire their hills and orchard. Very welcoming owners with their son Owen who speaks French.'' -Jocelyne Boisclair Allard
On the terrace, you can enjoy a Scottish meal or a sweet treat cooked by Anne, while sipping a pint.

"Beautiful place in the green and hilly countryside of the island. The Scottish owner is very welcoming and likes to slip in a few words learned in French. The sites are well indicated and spaced. Nice variety of ciders to discover and drink." -Jean Bédard
Even though they are located in a quiet area, many activities are possible in the area: hiking, kayaking, fat-bike, etc. The beach is only 10 minutes away! This stop will definitely be part of your best road trip memories on the island!
"We were their first Terego visitors and I invite you to stop by this place. Charming and welcoming owner. Very good products to discover, even if you are not a cider lover. Their products are special. Site with a beautiful view on the hills of the island." -Luc Rousseau
Ledges… Place des Pionniers
New Brunswick
The Place des Pionniers, a replication of the historical village of Saint-François, features several miniature reproduction of ancestral buildings!
"Very nice place! Mrs. Gaétane, responsible for the public relations aspect of the municipality, is impeccable and available. It's worth the detour and the sites in the park are remarkable. View on the river and sites with picnic tables covered with a roof, it's great! -Christian Roy
Terego members will be able to spend the night in a motorhome or travel trailer in a magnificent park on the waterfront. For nature lovers, you will be able to contemplate about fifty varieties of trees.
"A really great place right on the St. John River with a view of the Maine mountains. A must-see if you are travelling near Edmundston. Our most beautiful site during our two week trip to New Brunswick!'' -Michel Roch
You can enjoy the surrounding nature, hiking and biking trails and a children's playground.
"Super place that is worth the detour. Quiet, clean, warm welcome! We also met some great Terego members. -Jean Bédard


Steinhart Distillery
Nova Scotia
Handcrafted distillation has been a Steinhart family tradition for over 300 years. At Steinhart Distillery, ingredients are prepared daily by hand, using the finest grains grown in the area.
"We stayed here with our camper, it's quiet and the distillery gives you a place with a great view to have one of their wonderful gins! I recommend the rhubarb and strawberry one, it was Wow!" -Linda Roy
The specialties of the place: vodka and gin. Some of the vodka is used to make flavoured vodka using mainly locally sourced fruits, herbs and spices.
"Really a beautiful place. Great view and tables to enjoy the sunset. The cocktails are excellent and very affordable. The RV site is grassy and picnic tables are available. A place to visit!" -David Norbert
Great cocktails, great food, breathtaking views, and friendly owners. What more could you ask for?
"Definitely one of the most beautiful Terego sites with a fantastic view. The grounds are well marked and large. The cocktails are too good and it was a quiet night. I highly recommend." -Chantal Leonard
Want to discover the Maritimes with Terego? Click here to subscribe and book Terego RV stopovers.