February 25, 2022Escapade
Marie-Eve, her partner and her 2 children, aged 5 and 8, travel around in a Class C motorhome. In their search to see more of Quebec over the summer, they were interested by the idea of Terego. They told us about their experiences with several producers on our blog. Are you ready to set out? Destination: from Bellechasse to Kamouraska!
On a sunny day at the start of the vacation, we take the road to eastern Quebec. That way, we arrive at the end of the afternoon at our first Terego RV stop, the Ricaneux, a producer of berry alcohol. As soon as we arrive, we are shown our location on a large grassy field. Even though two other RVs are already installed there, we lack neither space nor privacy. A picnic table and a hammock adjoin our RV parking lot, a nice touch from our host.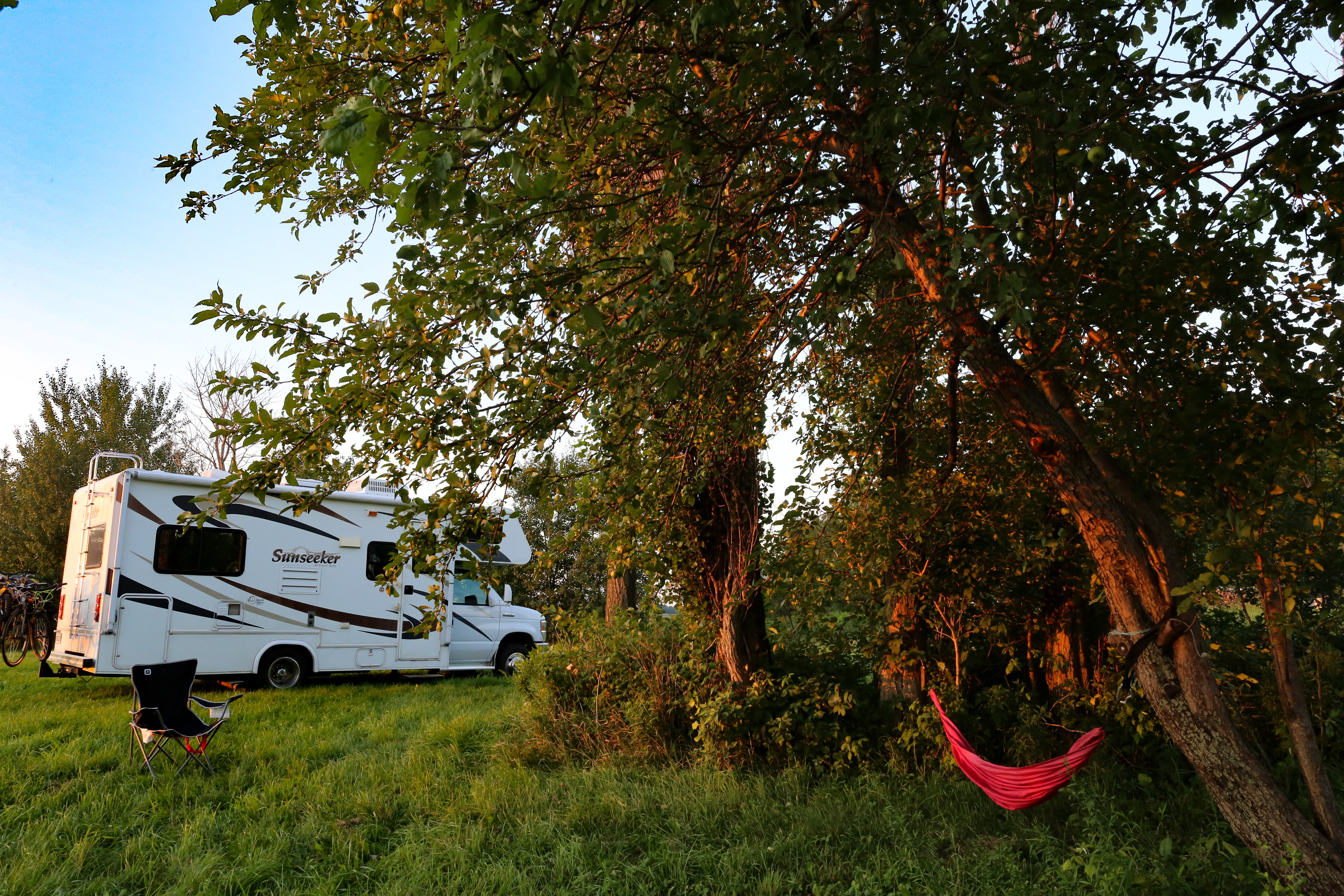 Once settled in, we go and get our tasting selection, which we enjoy at our table. We fall in love with the Le Ricaneux, a delicious wine made from strawberries and raspberries reminiscent of sangria. We also enjoy the Portageur, a wine fortified with berries and notes of port. Interestingly, while these alcohols are made from traditional berries such as strawberries and raspberries, they also include lesser-known berries such as chokeberry and elderberry, all cultivated on-site.
After the tasting, we then go to the shop to buy our favorite spirits, along with small jars of saskatoon jelly and candied onions. Next we settle down for a well-deserved dinner followed by a short walk on the estate. A path runs through the fields and into the maple grove. As we return from our walk, the sun gently descends through the trees, finally setting over the fields neighbouring the estate. The night that follows is peaceful and quiet.
We hit the road again in the early morning and head towards La Pocatière. We park at the tourist center so we can bike along the green route. Here, it offers 15 kilometers of gravel cycle path, perfect for a family ride. A constant wind blows from the west, so we decide to ride into it to make our return easier. While the sound of cars travelling on the adjacent highway is a little unpleasant for our ears, the view of the river is incredibly beautiful. We particularly appreciate the Cap Martin bike stop, where we pause for a well-deserved lunch.
After expending a good dose of energy, we return to the motorhome for a short drive. Destination Kamouraska, specifically the Gijamika farm, our next RV night with Terego.
Our hosts welcome us warmly and show us a location for the RV near the farm buildings. We then go to the store to stock up for supper. The choice is vast, with different cuts of lamb, sausages and charcuterie, terrines and country pâtés. We finally opt for delicious sausages with sea herbs for supper and take the opportunity to stock up on terrines.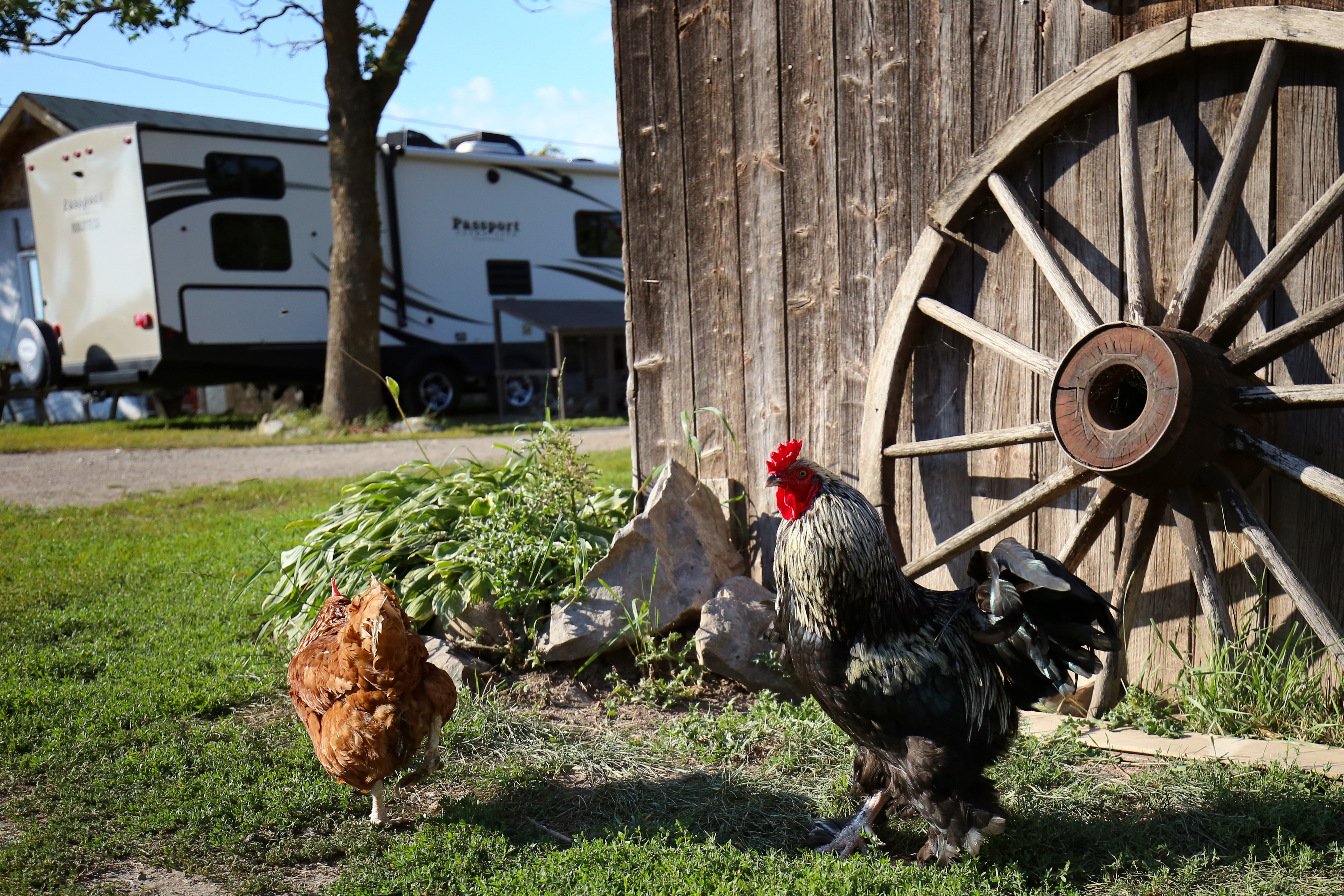 Jacinthe, the friendly owner, then takes us on a guided tour of the farm. Although it mainly produces lamb, there is a wide range of animals. We meet hens, roosters, geese, and even two curious emus. We bottle-feed cute little lambs and then say hello to chicks, llamas and alpacas, a donkey and some cats, rabbits and doves. Outside, horses and cute horned cows roam freely in the field. Finally, the sun sets on the mountains of Charlevoix, on the other side of the river and the fields.
To learn more about this "Adventure Family", please check out their Facebook, Instagram or their website (in French)!
Click here to subscribe now and book your Terego RV overnight parking now.