May 16, 2022Escapade
The Terego team, in collaboration with the Eastern Ontario Agri-Food Network, proposes you a 6-Day RV tour to discover the beauty, flavours and hidden treasures of Eastern Ontario! During your RV stops, you will meet passionate people who work hard to produce and offer exceptional local products. This tour offers a variety of activities that will please everyone!
Day 1 - Destination Ontario East (85 km)
It's a start! Choose your own pace: take Highway 40 to your first destination, or drive along Chemin de l'Anse, then Main Street along the Ottawa River. We recommend an early start so you can enjoy a day at the beautiful Voyageur Provincial Park. Located on the banks of the Ottawa River, Voyageur Park was once a stopover for many explorers and fur traders who had to cross rough waters to reach it. Today, the area is peaceful, but it is possible to imagine the life of yesteryear. The park has four sandy beaches. You can rent canoes, pedal boats and kayaks, go hiking, biking or fishing!
In the afternoon, head to your Terego host for the night: Les fruits du Poirier in Saint-Eugene. You can pick cherries, raspberries, blackberries, currants, blackcurrants, grapes, apples, plums, pears... and soon kiwis! On certain dates, it is even possible to pick honey in the hives and leave with your own little pots ready to enjoy! Mr. Poirier and his team also organizes activities such as cooking demonstrations and guided tours. "For those who would like to experience farm work, we make available shovels for both right-handed and lefties!'' Terego members can spend the night in an RV on their beautiful 24-acre property.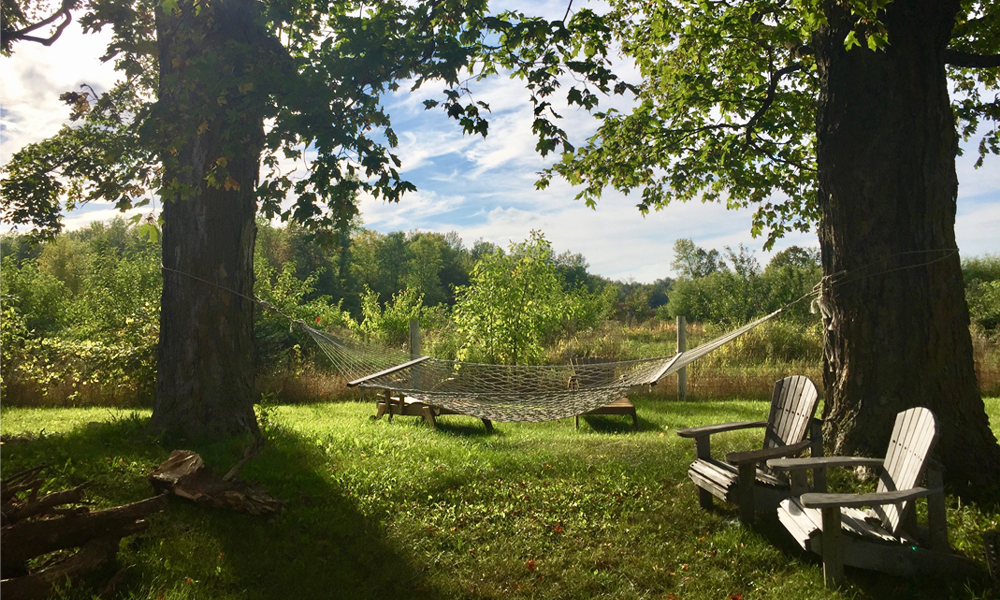 Day 2 - Treats and family activities (77 km)
The Fromagerie St-Albert offers the best cheese curds in the WORLD! It is the host of the famous St-Albert Curd Festival. It's one of the oldest cooperatives in Canada, founded in 1894. Their various types of cheddar have won many awards here and abroad and have been the pride of Eastern Ontario's francophone culture for over 125 years! Did you know that the cheese factory uses approximately 120,000 litres of milk per day, supplied by 28 local farmers, all located within 20 kilometres of the factory? From June 6, the factory will offer a mezzanine to observe the cheese-making process and a self-guided tour to discover at your own pace. In their restaurant, let yourself be tempted by a poutine or an ice cream! There's also a small grocery store with many local products.
After you've stocked up on gourmet goodies at the cheese factory, head over to Cannamore Orchard! Cannamore Orchard is a family owned and operated business that offers many activities: giant hedge mazes, cow train rides, pedal car races, U-pick apples, strawberries and pumpkins, and much more! In their small boutique, you will find apple cider, pies and their famous homemade fudge!

Please note that the Fromagerie St-Albert and Cannamore Orchard are two Terego hosts for RVers.


Day 3 - Walking and tasting for all ages (39 km)
Get back on the road and meet Marc and Norene at Stone Crop Acres Winery! Their story begins with a family's love of wine: Norene's father passed on his passion for wine to her at a young age, introducing her to the art of crushing grapes with feet and taking her on tours of French vineyards. Today, as the mother of four children, she passes on her love of nature, plants and animals to them. You can taste a wide variety of ciders, white and red wines made from grapes harvested by hand, pressed and aged on site. If you are travelling with children, they will be treated to a sparkling water tasting made just for them!
Enjoy a walk around the property to learn more about winemaking. The friendly and knowledgeable staff will be happy to provide you with information. Browse their store and sit in the tasting room or on the patio to experience their products with a delicious wood-oven pizza. Check out their website to see dates for events and intimate concerts!
The Gervais family is very happy to welcome Terego members for an RV overnight stay at Stone Crop Acres!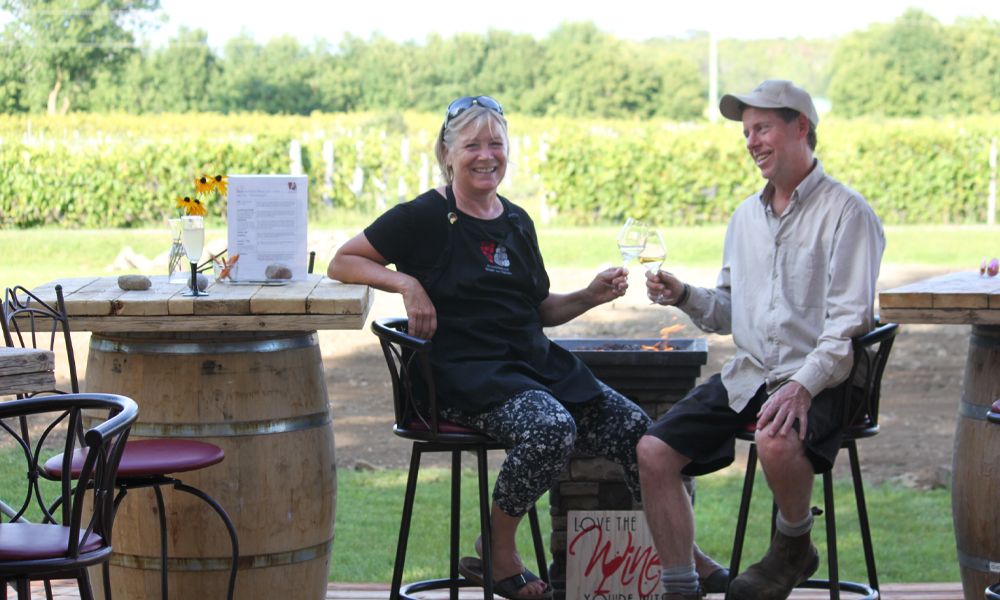 Day 4 – Visit Cornwall (63 km)
The first stop of the day: The Lost Villages Museum. Ten heritage buildings have been relocated and restored by members of the Lost Villages Historical Society, founded to tell the story of these homes and their inhabitants. The site describes the founding of Ingleside and Long Falls, but more importantly, commemorates the flooding of a dozen villages on July 1, 1958, during the construction of the Moses-Saunders hydroelectric dam.
On Sundays, starting May 29, make an extra stop at the Cornwall Waterfront Country Market for nut butters, preserves, breads, baked goods, local fruits and vegetables, wines, meats and much more. Pick up treats to enjoy at Lamoureux Park or at the Cornwall Marina!
After a busy day, relax and enjoy a stay at the Butte & Bine farm in Williamstown. Sylviane, Emeric and their children have built a farm that will one day allow them to be self-sufficient thanks to the use of regenerative and permaculture practices. The family also operates a micro-bakery that highlights Emeric's French roots. He makes delicious organic sourdough breads and waffles! Explore the property or take a walk on the multi-use retired railway Peanut Line. Terego members can stay overnight at the 27-acre farm. On your RV overnight stay, sit around a fire with the young owners. A great opportunity to talk with passionate local producers!
In the morning, Sylviane and Emeric offer you a delicious breakfast platters and charcuterie boards made using local or farm-baked products.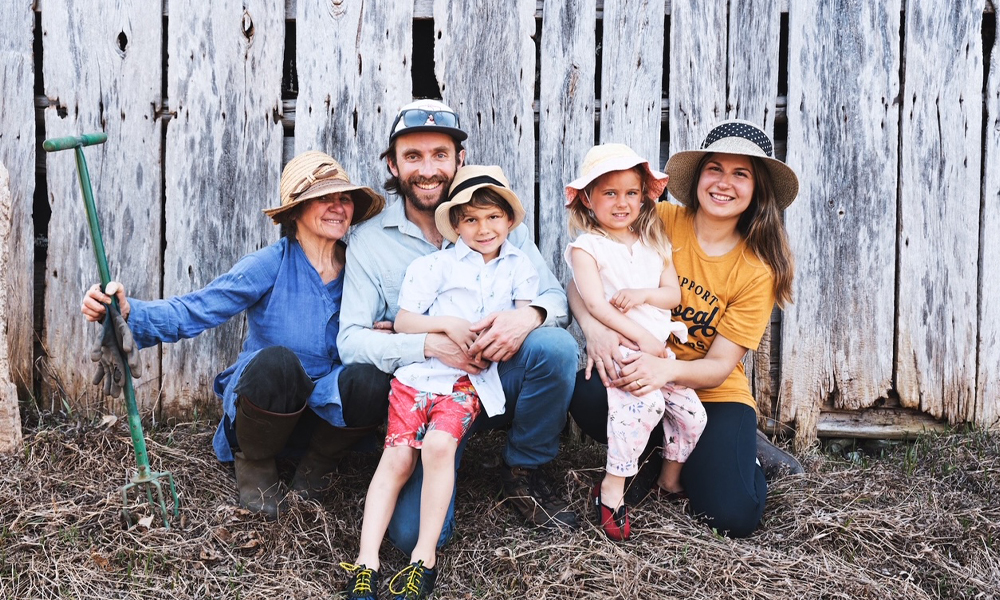 Day 5 – Majestic ruins and friendly animals (28 km)
After this delicious breakfast of local products at the Butte & Bine Farm, we recommend a must-see in the region: The Ruins of St. Raphael Catholic Church, a National Historic Site of Canada. In 1970, a fire consumed St. Raphael's Church, one of the oldest Roman Catholic churches in English-speaking Canada. Fortunately, the exterior walls were spared. The impressive scale and finesse of the stonework continues to impress travellers from all over. There is no charge to visit the site, but donations are gratefully accepted.
Fourteen kilometres from the ruins is the town of Alexandria. In this small Franco-Ontarian town, we suggest a short stroll where you will find charming boutiques and restaurants filled with Eastern Ontario products. Ten minutes away is your next stop: La ferme Theoneuve. Formerly a dairy farm, Julianne's family has given it a new lease on life as a diversified small-scale farm. The young family runs a market garden and a livestock operation. Come and meet Gaby the goat, Violet the sheep, Florence the cow and their friends the rabbits, chickens and horses! The farm sells seasonal vegetables and fruits, eggs, as well as several cuts of meat. In their boutique, a variety of processed products such as soaps and preserves are also offered!
Terego members have the chance to RV camp close to the animals.


Day 6 – Return home (or not!)
On this sixth day in Eastern Ontario, it's time to go home! From Theoneuve Farm, take a drive along the country roads to admire the rural landscape or cross the Quebec border to extend your RV stay at one of our Terego hosts: Ferme Brasserie Schoune, Cafiti, Bleuetière et verger St-Thomas, Vignoble de Pomone, Microbrasserie Trois-Lacs. Other Terego hosts also allow you to make an RV stopover near the St. Lawrence River: Le Bourg des Cèdres or Village des Écluses!
Click here to subscribe now and book your Terego RV overnight parking now.
This blog was written in collaboration with the Eastern Ontario Agri-Food Network.